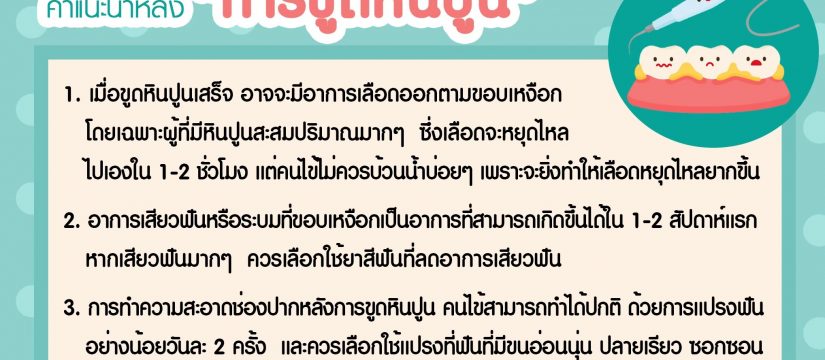 Scaling aftercare
1. After scaling procedure, patients may experience bleeding along the edge of the gums, especially for those that have large amounts of limestone removed. The bleeding may occur for 1-2 hours depending on the severity of the inflammation of the gums, but patients should avoid spitting very often because it will prevent clotting of blood and may not stop the bleeding.
2. Sensitive teeth may remain inflamed along the edge of the gums for the first 1-2 weeks. Patient should use toothpaste that reduces tooth sensitivity, but if sensitivity is not reduced, go to the dentist immediately
3. In patients with large amounts of limestone accumulated over a long period of time, after scaling, the gums may have receded due to chronic gum inflammation for a long time, and this may cause the teeth to wobble, especially if accompanied by periodontitis or pyorrhea disease.
4. After scaling, patients can return to cleaning their teeth normally; like regular brushing teeth at least 2 times a day with soft bristled toothbrush. Most importantly, patients should use dental floss once a day.
5. In case of large amounts of limestone is present; dentist may not be able to clean all the teeth in one go. The dentist will have to do this in 2 appointments. So it is important for patient to attend both appointments.
6. Limestone accumulation can still occur, even after scaling. Therefore, patients should undergo scaling at least every 6-12 months and also have a general oral examination.
"Beautiful teeth, Bright smile, Quality service"
Dental Clinic, Orthodontic Clinic, Skytrain Dental Group
www.skytraindental.com